Large Number
of Services Provided
We offer a wide range of services that are built custom to your needs.
Over 30 Years
of Experience
Our work can be trusted with over 30 years of professional experience.
Licensed
and Insured
We are licensed, insured and you can feel confident in our work.
DIAMOND RIDGE PROFESSIONALS SERVICES
Decks
Diamond Ridge Professionals offers a full line of Trex composite decking and handrail products. Our team of professionals will help you with the design, size, use, budget, and the amount of time it will take to build you the perfect deck. We offer a 20 year warranty on all substructures to match Trex's 20 year warranty on all decking and handrail products that do not rot, warp, splinter, fade or stain. No more seasonal painting, sealing or staining for the life of your deck.

Color & Design - Trex select and Trex Transcend decking products offer a variety of colors and textures that can provide a unique deck to your house and landscape. Our professional designers can help you to design your deck with a color that will stand out and compliment your property.

Size - How do you want to use your deck? How you plan to use your deck will play a role in determining its size and scale. Our team will assess your property and help you to determine a size that will accommodate the use of your deck.

Budget - Do you have a set budget in mind? This may play a role in the size and scope of your deck, or extra features you want to incorporate. When planning your deck, our team will consider not only the cost of materials, but the cost of labor as well.

Time - The amount of time it takes to build a deck varies based on a number of factors, including: the size, shape and components of your deck, as well as how many workers are building it. We can determine a time frame that works within your schedule and the amount of days needed to complete your deck.
VIEW GALLERY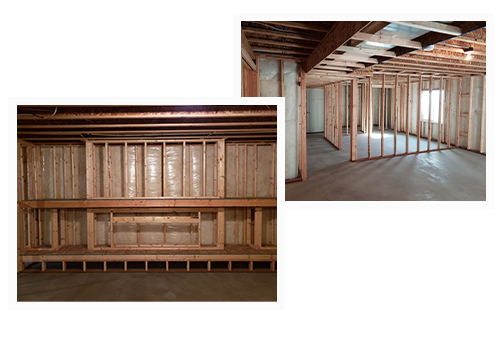 DIAMOND RIDGE PROFESSIONALS SERVICES
Basements
Diamond Ridge Professionals brings expertise and the highest standard of materials together to provide expert basement framing in Utah to homeowners. Our attention to detail ensures that each project is initiated with a thorough understanding of the process of a basement and the specific requirements of the individual homeowner.

Framing any basement, whatever its size or configuration, is a task we take seriously. It must be executed with professionalism and skill to prevent dangerous or costly damage to the structure in the future. Both load bearing and nonessential walls must be soundly constructed at the most basic level for the finished appearance, safety, and the structural integrity of the basement space, which is why the professional assistance of basement framing contractors is essential.

Regardless of whether you're a homeowner or head contractor looking for a sub-contracting team that can assist you with a project, Diamond Ridge Professionals can provide you with the framing expertise you're looking for. We'll work with you to make sure that all your basement designs are followed the way you want them to be.

Diamond Ridge Professionals is working hard to earn a reputation as one of the leading basement contractors in Utah. We will put your basement ideas into action. Whether you want to build a man cave, a playroom, an entertainment room, or a secluded mother-in-law area, we will put our framing expertise to work and help your dreams come true.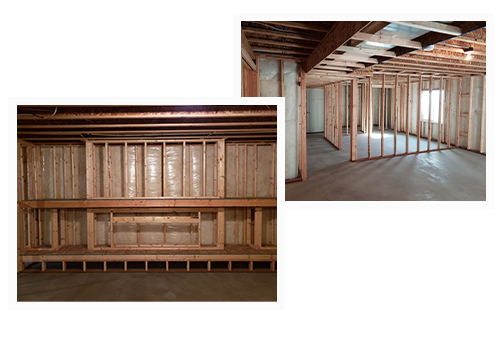 VIEW GALLERY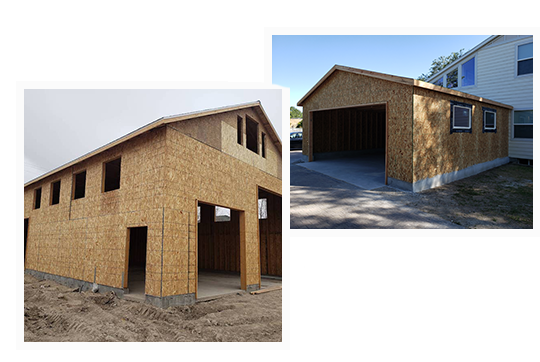 DIAMOND RIDGE PROFESSIONALS SERVICES
Garages, Lofts & Sheds
GARAGES - Detached garages offer all the benefits of an attached garage, plus added space between the new building and your home. This allows for more privacy, which is great for guest rooms, in-law suites, and home offices. Detached garages also help create a sound barrier that's great for workshops, home gyms, and much more. Diamond Ridge Professionals is a custom garage builder offering 1-story and 2-story attached and detached garages to homeowners

LOFTS - Garage lofts generally offer a parking area on the main level for one to four vehicles and storage space in the form of an upstairs loft. The loft area is usually accessed by a standard staircase or pull-down stairs. If you have a garage with a ceiling height of 11 feet or more and you're not utilizing the area above the garage door track for storage, you're truly wasting valuable space. Our garage storage loft solutions will convert your garage into a dual purpose area for both parking your car and storing your belongings, giving you the best of both worlds.

SHEDS - When any old shed will not do and when you want a unique backyard that is a perfect fit for your taste and style, then a custom shed is the place to begin. Our team will work with you to create customized backyard sheds to fit your needs. Your next custom shed built by Diamond Ridge Professionals will accent your home and create a unique space for all to enjoy. Get your custom shed built to your own specifications and use it to accomplish great things. We offer professional framing for sheds that will allow you a great place to do your work.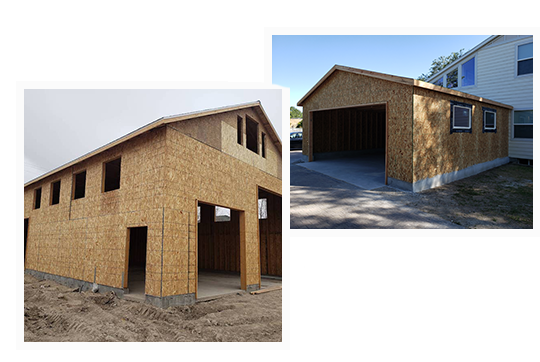 VIEW GALLERY
DIAMOND RIDGE PROFESSIONALS SERVICES
Acoustical Ceilings and Wall Panels
Acoustical ceilings are a cost-effective alternative to a drywall ceilings. With various colors, designs and textures, Diamond Ridge Professionals can create a ceiling that is both functional and attractive to the eye. Worried about your living space looking like an office building? We offer a variety of options ranging from wood, metal, felt and fabric wrapped panels, we'll make your home feel warm and inviting.

Sound is a major factor in the quality of our everyday lives. Hours of research has shown that people are more happy and productive when the sound is controlled and not causing disruptions or distractions. With more people working from home these days, let Diamond Ridge Professionals design a home office environment that helps you focus and be more effective with your time. We can make it so your next video meeting or conference call is enjoyable without the worry of disrupting other members of your household.

Have you always wanted a theater room that makes you feel like you are at the movies? Sound is a major factor to an enjoyable viewing experience. Diamond Ridge Professionals specialize in creating rooms that stimulate the senses with our expertise in sound absorption, diffusion and deflection. Our custom sized wall panels can be created to fit your space. With hundreds of fabric colors and designs, we can match wall panels to your design. Let our team of professionals create a theater room that brings the sound to your ears and not to the rest of your home.

Benefits from acoustical ceilings: Access to above ceiling plumbing, electrical and HVAC. Sound Absorption, diffusion and echoing. Maintenance free, no painting, dings or water damage.
VIEW GALLERY
Reviews
Chaz
"Ben built a large storage loft in my garage. He was very detail oriented and made sure the project turned out exactly how I wanted it. I will definitely be calling Diamond Ridge again."
Herriman, UT
John & Cathy
"Super easy to work with and great prices! Diamond Ridge Professionals is as good as it gets for framing"
Sandy, UT
Jordan
"Ben built us a beautiful deck with a 30 year frame. Couldn't be happier. They built it really quick and at a great price"
Herriman, UT
Christian
"I am definitely going to be giving diamond ridge pros a call again in the future. They did a really great job"
Lehi, UT
Taylor
"I had Ben do the framing for my basement and couldn't be happier. Quick and professional work at a great price."
Salt Lake City, UT
Shantell
"I would highly recommend Diamond Ridge Professionals. The owner came out to our place, quoted us and did quality work."
Riverton, UT
Dave
"I needed an acoustical ceiling and Ben gave us exactly what we were looking for. Very quick, friendly, service"
Magna, UT
Linda
"From top to bottom Ben's work was exactly what we had hoped for. Anytime we need framing done, Ben is our guy."
Kearns, UT
Previous
Next
Ben Terry is the Owner and Operator of Diamond Ridge Professionals with over 30 years of experience in residential framing.

He is a license and insured contractor in the Salt Lake valley providing each customer and project with the utmost in service, so that they may have the best construction experience possible.

His knowledge and attention to detail provides customers with high quality construction services and dedicated professionals committed to every projects success. Ben has a complete understanding of how a quality project is built — from the ground up. He is committed to finding a design that works for you, and a price that works within your budget.